News Item: Yorkshire's Suzy Petty Selected to represent England in the upcoming World Cup in London
(Category: Yorkshire County News)
Posted by YHAWeb Manager
Thursday 05 July 2018 - 11:53:40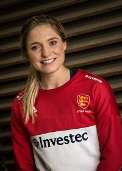 CONGRATULATIONS go to Yorkshire's Suzy Petty on her selection to represent England this Summer!
Suzy is in England's 18-strong squad that will compete at the Vitality Hockey Women's World Cup on home soil in London between 21 July and 5 August.
She received her first senior cap in November 2013 and has also played for the U21s for three years, captaining the team at the World Cup and winning bronze at the U21 European championships, and was in the England team at the recent Gold Coast Commonwealth Games and at the World League Finals in New Zealand.
Will it be on TV?: Yes, BT Sport have rights to show the tournament in the UK.
---
This news item is from Yorkshire Hockey Association
( http://www.yorkshireha.org.uk/news.php?extend.3020 )