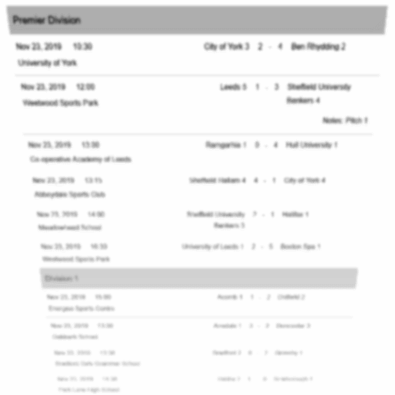 YHA Men's and Women's league matches postponed due to frozen pitches on Saturday 30 November 2019 have been moved en bloc to the slip date of Saturday 15 February 2020.
Teams may decide to play by mutual agreement on a vacant Saturday or Sunday between now and Sunday 5 January (at the latest). This would leave other Sundays in January and February free in case of more bad weather postponements without using even more weekends up to the end of the season for this purpose.
All teams are reminded that start times and venues shown on the YHA Website for 15 February 2020 have been moved from the original 30 Nov fixture and will not necessarily be correct.
Home teams will need to reconfirm start time and venue with your venue admin and your opponents and then update the YHA Website as necessary.
Once match details have been confirmed please remove the "Fixture moved from 30 Nov 19 – home team to re-confirm match details with opposition" note from your fixture(s).
If you have any issues with reconfirming start time and venue with your venue admin or opponent's please talk to your Division Representative as early as possible.
There are still fives matches from 30 November with no result input, nor showing as postponed.
We would be grateful if the clubs involved: University of Leeds (1 x Men and 1 x Women), Kingston-upon-Hull (2 x Men) City of York (1 x Women) would add a result or 'postpone' the fixtures and we will move them to 15 Feb 20.
Failure to do this by the end of the week will mean that these fixtures will need to be rearranged according to the League Rules.
Andy Pettigrew – YHA Web Manager
on behalf of the YHA Men's and Women's League Committees