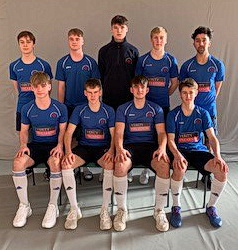 Over the weekend Harrogate U18 boys played in the EH indoor national finals at Telford finishing runners up to a very strong East Grinstead HC.
Beating, Ashmoor, Belper and Saffron Waldon in the pool stages and Seven Oaks in the semi final, the final against EG was a close and hard fought match. Harrogate subbed their goalie with 3 minutes to go in search of an equaliser only to lose a late goal to make the final score 1-3.
Given these boys came from 7 different schools and given the total lack of training they did incredibly well being the highest team goal scorers over the weekend with Ben Collinson winning the individual highest scorer with 11, 5 more than anybody else. They showed incredible attitudes and did Yorkshire and the North proud.
Harrogate Boys Under-18 Results
7-0 W v Pelper;
10-2 W v Saffron Walden;
4-1 W v Ashmoor;
2-3 L v East Grinstead;
3-1 W v Sevenoaks (Semi-final);
1-3 L v East Grinstead (Final).
Final: East Grinstead 3-1 Harrogate.
Semi-Finals: East Grinstead 2-1 Bowdon; Sevenoaks 1-3 Harrogate
Pool B Placings: 1) Sevenoaks P4, 12pts (GD +8); 2) Bowdon P4, 7pts (GD +5); 3) Team Bath Buccaneers P4, 5pts (GD 0); 4) Repton P4, 3pts (GD-5); 5) Ip[swich – East Suffolk P4, 1pts (GD -8)
Pool A Placings: 1) East Grinsted P4, 12pts (GD +15); 2) Harrogate P4, 9pts (GD +17); 3) Ashmoor P4, 6pts (GD -6); 4) Belper P4, 3pts (GD-11); 5) Saffron Walden P4, 0pts (GD -15)