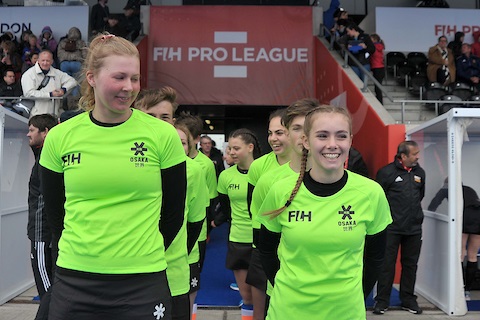 Applications have now opened to volunteer and become a member of the Ball Patrol team at the FIH Pro League Matches and other England Hockey events in 2020.
In addition, there are other match protocol requirements that require the services of the Ball Patrol Team and therefore there may be some match days where a team members role will solely be delivering these
You can apply as an individual or as a group from a club, school or other organisation. A group can be from four to eight participants. Applications close on 21 March 2020
A briefing pack and presentation will be supplied to support all interested applicants to prepare for their training and assessment and it will outline the role and skills required to be a Ball Patroller.
Shortlisted groups and individuals will be invited to attend training and assessment at England Hockey events in 2020, including the matches/tournaments identified in the Ball Patrol registration pack.
Ball Patrollers will need to be available for a minimum four of the eight match days. However it helps if you can give as much availability as possible across the event days.
Due to the time period of the league and its proximity in relation to crucial exam time, the Ball Patrol squad will be larger than has traditionally been appointed at tournaments. Therefore there is some flexibility around appointments for each match day and this will be done in a timely fashion.
For more information and to register you / your groups interest please complete the short registration form here.
We look forward to hearing from you. If you have any queries or require any additional information please contact -email-.