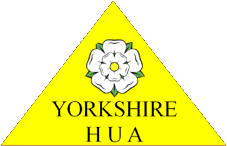 ROSS ANDERSON RIP
It is with great sadness that YHUA has learnt of the untimely death of Ross Anderson following a short illness. He had been a larger than life character in Yorkshire Hockey for more years than most of us can remember.
Ross played all of his hockey in York firstly for what was York Civil Service, later to become York Trojans and subsequently City of York HC and was always to be seen at the ground watching once his playing and umpiring days were over.
Ross graduated from the ranks of players to become a neutral umpire for over 30 years where his style was always laid back and ready to diffuse any potential conflict or flare up with a quiet, usually humorous word. His quiet, very dry sense of humour was his trademark and enabled him to make friends throughout the hockey world even travelling to the US to umpire on occasion!
He was a key member of the YHUA committee, being treasurer for 25 years and also auditor for the North HUA. His down to earth good sense made him the perfect committee member to be able to cut through any waffle to the real point and gather agreement where none might have seemed possible before.
As an umpire coach he also was able to provide excellent practical advice to new and developing umpires to help them on their journey.
However, it is as a friend that we will all miss Ross, his infectious laugh, winning smile and his excellent company both on the hockey pitch and in the bar!
He will live long in the memories of all who knew him and our heartfelt condolences go out to his family and friends at this very sad time.
Dear All
Ross's funeral is 12.20 pm Wednesday 26th January 2022 at York Crematorium followed by reminisces at the Marcia
Web cast of Crematorium Service
Not sure who can make it but if not you can log in.
Very best regards
Bob
Obitus

  Watching webcast live and watch-again  

    Website https://watch.obitus.com
              Username hoqo3297  
            Password 068753    
   
  Service details
      Remembering : John Ross Anderson  
            Service date Wednesday 26th January  
            Time 12:20
              Venue York White Rose
crematorium@york.gov.uk
01904552071    

                            Watching webcast live You will be able to view the live webcast approximately 5 minutes before the service start time. Please be aware the service is in a public building and earlier services may overrun. Please use your discretion should you see activities unrelated to the service you are here to view. In advance of the service, we strongly recommend you log in to the site and test your internet connection   Watching webcast again We aim to process the editing of the service and upload for the Watch Again service within 3 working days. If you did not order this feature and would like to request it, please get in touch.